Kickstart your recruitment drive with InAutomotive
We're proud to be the UK's number one job board dedicated to the automotive industry. With over 290,000 thousand registered jobseekers and 70 thousand CVs, you're bound to find your next hire with us.
We have a range of products and services to suit all needs and budget. Simply tell us what you need and we can tailor a package to suit.
We're proud to be partnered with some of the world's biggest names in the industry, including the ABP Club, the Institute of the Motor Industry (IMI) and Uber, to name but a few.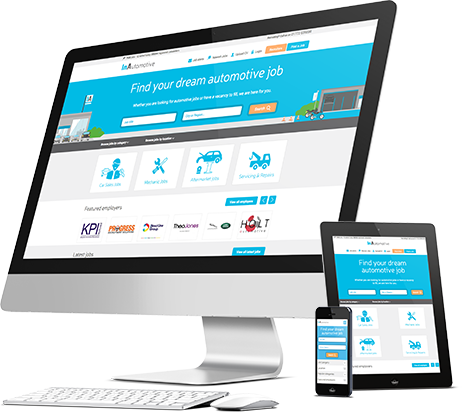 THOUSAND MONTHLY PAGE VIEWS
THOUSAND REGISTERED JOBSEEKERS
THOUSAND MONTHLY APPLICATIONS
What our customers say about us
"Would definitely recommend using this for filling any vacancies you have, very flexible and easy to use. We have used this service twice now and the response has been fantastic each time with a lot more applicants than our previous method of job recruitment. The staff keep in touch regularly to find out how the ad is going and advice is always on hand." SES Autoparts
"InAutomotive inspired us to recruit directly, showing us how simple and easy it was. We were highly impressed with the level of service provided by everyone, along with the user friendly website allowing us easy access to candidates. I look forward to working with you all going forward and thanks again for the support you have given us so far." Williams Motor Group
"InAutomotive helped us change the way that we approach recruitment, reducing our agency usage and recruitment costs. With their quality over quantity approach, we successfully filled an array of vacancies. Our Account Manager kept in close contact throughout and ensures you get the best out of your package. I could not recommend InAutomotive enough." GSF Car Parts
"Would definitely recommend using this for filling any vacancies you have, very flexible and easy to use. We have used this service twice now and the response has been fantastic each time with a lot more applicants than our previous method of job recruitment. The staff keep in touch regularly to find out how the ad is going and advice is always on hand." SES Autoparts
"InAutomotive inspired us to recruit directly, showing us how simple and easy it was. We were highly impressed with the level of service provided by everyone, along with the user friendly website allowing us easy access to candidates. I look forward to working with you all going forward and thanks again for the support you have given us so far." Williams Motor Group
"InAutomotive helped us change the way that we approach recruitment, reducing our agency usage and recruitment costs. With their quality over quantity approach, we successfully filled an array of vacancies. Our Account Manager kept in close contact throughout and ensures you get the best out of your package. I could not recommend InAutomotive enough." GSF Car Parts
Find out more about InAutomotive