Find the best with Simply Law Jobs
We're one of the UK's leading job boards for the legal industry. With over 130,000 registered jobseekers, you're bound to find your next hire with us.
We have a range of products and services to suit all needs and budgets so whatever, or whoever you're looking for, we can help!
Looking for large volumes of candidates? Our 'Job of the Week' slots typically receive 37 clicks everyday, so it's the perfect way to get noticed.
Looking to headhunt your own candidates? We have over 23,000 CVs of professionals within the legal field, so search away using your chosen search terms.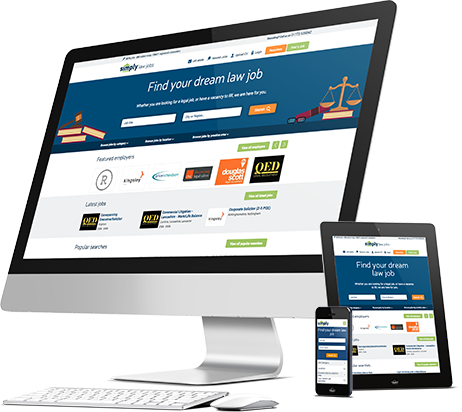 THOUSAND MONTHLY APPLICATIONS
THOUSAND MONTHLY PAGE VIEWS
THOUSAND REGISTERED JOBSEEKRS
What our customers say about us
"Our Account Manager has been most helpful. She is very professional and has shown true integrity. She covered a lot of groundwork in making the task much easier. She takes great care in looking after her clients and helping them reach their aims. It is always a pleasure working with her." Legals 4 Lawyers
"Simply Law has been exceptional! Our company has really benefited from the services they provide and the email alerts are outstanding. Our Account Managers are truly supportive and helpful if on the rare occasion we encounter a problem with Simply Law. We couldn't wish for anyone better." ACS Recruitment
"I found the service to be excellent. I received a great response to my job advert, the quality of candidates was high and I have successfully appointed to the role that I advertised. I would not hesitate to recommend Simply Law Jobs as an extremely cost effective and easy to use recruitment method." Barrat Legal
"Our Account Manager has been most helpful. She is very professional and has shown true integrity. She covered a lot of groundwork in making the task much easier. She takes great care in looking after her clients and helping them reach their aims. It is always a pleasure working with her." Legals 4 Lawyers
"Simply Law has been exceptional! Our company has really benefited from the services they provide and the email alerts are outstanding. Our Account Managers are truly supportive and helpful if on the rare occasion we encounter a problem with Simply Law. We couldn't wish for anyone better." ACS Recruitment
"I found the service to be excellent. I received a great response to my job advert, the quality of candidates was high and I have successfully appointed to the role that I advertised. I would not hesitate to recommend Simply Law Jobs as an extremely cost effective and easy to use recruitment method." Barrat Legal
Find out more about Simply Law Jobs