Find the best with Simply Marketing Jobs
Back in 2004, Simply Jobs Boards founder, Ian Partington, was searching for a job board where he could post jobs specifically for sales and marketing positions. When he couldn't find any, he decided to create them, and so Simply Sales Jobs & Simply Marketing Jobs were born.
Fast forward 14 years and and they are now part of the Simply Jobs Boards, the UK's biggest group of niche job boards. Also included in the group is Aviation Job Search, InAutomotive and Simply Law Jobs.
Over the years, Simply Marketing Jobs has provided employers, recruitment agencies and advertising agencies with the best talent available out there for their positions.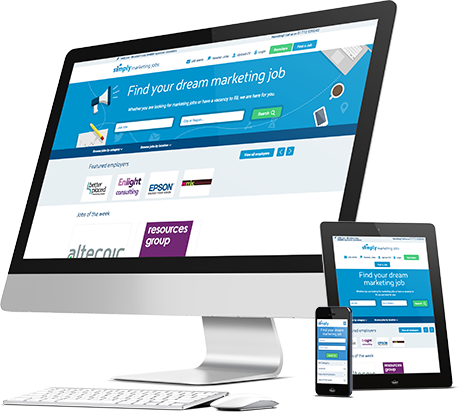 THOUSAND MONTHLY PAGE VIEWS
THOUSAND MONTHLY APPLICATIONS
THOUSAND REGISTERED JOBSEEKERS
What our customers say about us
"Our Manchester office has just made a within-the-week placement having placed an ad on Simply Marketing! Great stuff! I think this means it's paid for itself within 1 week." Logical Resources
"We had an excellent response from the ad and received over 20 applications. We have now successfully appointed to the post. We will most certainly use you again." Foster Talk
"We have always had a very efficient and cost effective service. It's proven to be the best job board that we have used for both quality and quantity of candidates." Rilwood Associates
"Our Manchester office has just made a within-the-week placement having placed an ad on Simply Marketing! Great stuff! I think this means it's paid for itself within 1 week." Logical Resources
"We had an excellent response from the ad and received over 20 applications. We have now successfully appointed to the post. We will most certainly use you again." Foster Talk
"We have always had a very efficient and cost effective service. It's proven to be the best job board that we have used for both quality and quantity of candidates." Rilwood Associates
Find out more about Simply Marketing Jobs