Joe Slavin has been appointed Non-Executive Director for Simply Jobs Boards with immediate effect.
Joe arrives with many years of strategic and operation experience in an industry that prides itself on innovation and pace in solving a customer's staffing needs. His experience includes Managing Director roles at Monster.co.uk and Johnston Press (JobsToday and TheSmartList) as well being the former CEO of Fish4Jobs. Joe will bring his considerable knowledge of market and industry trends with over 20 years in managing sales, marketing and product teams, bolstered by his irrepressible enthusiasm for applying smart solutions to the sector's challenges.
Ian Partington, Chief Executive of Simply Jobs Boards comments: "I'm delighted to welcome Joe to our Management Board. His experience of the industry outside of Simply Jobs Boards is what I believe will add great value to the business over the coming years as we continue our ambitious growth plans in the UK, US and Far East.
Joe Slavin said: "I'm thrilled to be joining this dynamic team. They have had fifteen years of success in a challenging, dynamic industry already, which is no small feat, and I look forward to being a part of Simply's bright future."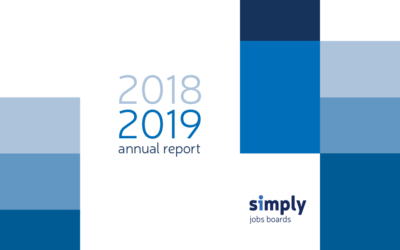 Simply Jobs boards is pleased to bring you our 2018-2019 annual report! Last year we had some excellent feedback following the release of our report, and this year there's even more packed in to it!Here's what you can expect to find inside the report: CEO...